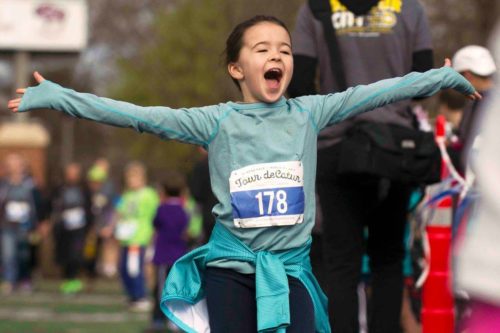 Lace up your running shoes for Decatur's biggest 5K race on Saturday, March 10. The Tour deCatur will also include the 1-mile fun run and the always adorable Tot Trot, so the whole family can participate.  For onsite registration, see information below. (Photo by Dean Hesse)
Thank you to our sponsors for helping to make this event possible.
If running or walking isn't your thing you can be part of this great event by volunteering. Click HERE to sign up.
8:30am – 1-mile Fun Run begins
9:00am – 5k Road Race begins
10:00am – Tot Trot (4 and under) – gather at the end zone closest to the Performing Arts Center (PAC).
10:15am – Prize ceremony on the plaza in front of the cafeteria
Check out the 5K and 1-Mile Routes HERE.
REGISTRATION AND NUMBER PICK-UP INFO:
Due to the large number of participants this year, we will offer you the opportunity to pick up BOTH your Tour deCatur race number and your event t-shirt in advance of the race on either Thursday, March 8 or Friday, March 9 (for 5k, 1 mile, and Tot Trot).  Picking up your number and shirt in advance will allow you to bypass the lines on Saturday morning and go straight to the football field at Decatur High School, which will be the waiting area for both the 1-mile and 5k races. If you are NOT able to pick up prior to race day, same-day registration and number pick-up will open at 7:30am in the new DHS cafeteria.
Race number, t-shirt pick up, and onsite registration will take place THURSDAY, March 8th from 4-7pm at Fleet Feet Decatur (431 W. Ponce de Leon Ave). You can park in the First Christian Church parking lot across from the Post Office or on the street in front of the toddler park just down from Fleet Feet.
Race number, t-shirt pick up, and onsite registration will take place FRIDAY, March 9th from 4:00-6:30pm at the Tour deCatur EXPO at Ebster Recreation Center (404 W. Trinity Place).  Students from City Schools of Decatur won't want to miss the chance to see their favorite teachers take a pie in the face at the EXPO.
Please note: If you registered after Feb. 16, we will make every effort to have a t-shirt for you BUT an event t-shirt is not guaranteed.  Adult registration includes an event t-shirt.  Youth who participate are awarded medals at the finish line.
RACE-DAY INFO
Both the 1-mile fun run and the 5k will begin on Commerce Drive, out the back of the high school. Runners should gather on the football field if they already have their race number OR stop by the cafeteria for same-day number pick-up and registration. PARKING: Parking is available in the high school lot, but it will fill up fast. Parking is also available at Agnes Scott College in the parking deck across the tracks from the high school entrance on S. McDonough (you must exit by noon on Saturday). If you live nearby, please consider walking or biking. We expect 3,000 participants, so plan to arrive early!!!
THIS EVENT IS RAIN OR SHINE!  Strollers are welcome but we ask that you line up near the back.  Please remember that NO DOGS ARE ALLOWED.  
Funds raised from the Tour deCatur support DEF's many programs and initiatives including mentoring programs, Teacher Innovation Grants, and Opportunity Grants for Decatur students. Click here to see how funds are used to support Decatur's kids.