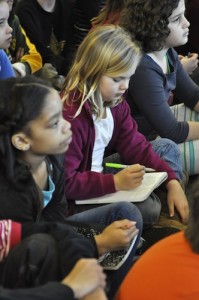 What do you do when opportunity knocks? You open the door.
That's precisely what happened when local children's author Laurel Snyder received an e-mail saying that the hardback edition of her first novel "Up and Down the Scratchy Mountains" was going out of print.
She purchased all 800 remaining copies and set out to find them a good home.
When Little Shop of Stories owner Diane Capriola got a call from Laurel, she saw an opportunity. After joining forces with the Decatur Education Foundation, Little Shop made sure that 240 copies of Laurel's book landed in the hands of fourth grade students at Glennwood Academy, and plans for an author visit were underway.
Recognizing that literacy programs are not just about reading, the Foundation sponsors author visits to promote writing among students.
"Laurel's visit was extremely inspiring for our students as writers," said fourth grade teacher Lynn Holden. "Her advice about creating a character before writing the story was invaluable."
And, it's not just teachers that recognize the benefits of these programs. Many students – like fourth grader Sonali Master – get a writing confidence boost and discover that writing can actually be fun. "Listening to Laurel's story was really amazing," she said. "How you can go from writing little stories on notebook paper with cardboard covers to being a published author."
This opportunity turned out to be a success story for everyone involved.
"It was a wonderful day, and such a great school," said Laurel about her visit to Glennwood. "I left feeling supercharged myself!"