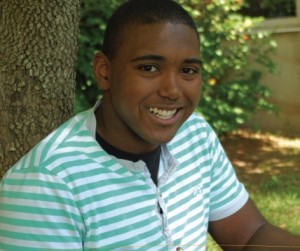 When it came time to choose a college, Deven Johnson had an enviable list of options: Wake Forest, Northwestern and Howard.
The Decatur High School student chose Howard University.
"I made the decision based on the opportunities I'll have in D.C.," he says. "Howard offers great opportunities for networking and internships."
Paying for a private college could have derailed Deven's dream. Fortunately, his strong academic record and leadership skills earned him enough scholarship money from several sources.
Deven was the 2010 recipient of the Patrick Family Scholarship, the largest single scholarship available exclusively to Decatur High School students. The recipient is chosen based on initiative, potential for success in higher education and financial need. The $5,000 annual award is renewable for four years.
He was honored to receive a scholarship sponsored by a local family. And he was moved by the recommendations his counselor and teachers wrote on his behalf. "They made me out to be the Messiah or something," he jokes. "I can't thank them enough."
The youngest of five children, Deven transferred to Decatur High from the DeKalb County school system in search of better resources and more opportunities. He played football and served as senior class treasurer. Documenting life at Decatur High is where he really made his mark.
He enrolled in video production, and the class got him, "socially invested," in all things Decatur, he says. He interviewed students and teachers. Then, he and his classmates worked together to produce a full-length, monthly program called, The Deck.
Deven was in awe of the professional equipment he got to work with and appreciative of the teachers who taught him the ropes and inspired him with their enthusiasm. He got so much satisfaction from the experience, he chose communication as his college major.
"I always admired artists, and people who could create something," he says. "I wasn't the artistic type, but I discovered I could create something with video."