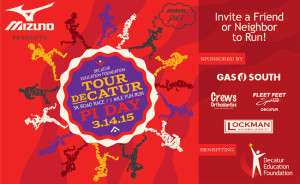 What is Pi Day?
March 14th is Pi Day because Pi (the 16th letter of the Greek alphabet) is the symbol for the ration of the circumference of a circle to its diameter.  
Pi = 3.141592… (it keeps going forever)
This is the ONE and ONLY time in this century that the date will be the first 5 numbers of Pi!  How cool is that!
The 13th annual Tour deCatur benefiting the Decatur Education Foundation will be held Saturday, March 14th – Pi Day and will once again start at Decatur High School. Click HERE for 5k and 1-mile routes.
NOTE NEW START TIMES
1-mile Fun Run start time: 8:30am
5K race start time: 9:00am
Tot Trot start time: 10:00am (meet under the stadium scoreboard)
CLICK HERE FOR ONLINE REGISTRATION
CLICK HERE FOR PAPER REGISTRATION (note: form must be received by 2/28 to qualify for early pricing)
NOT INTERESTED IN RUNNING OR WALKING? CLICK HERE TO VOLUNTEER!
NEW THIS YEAR: We will host a Friday night Tour deCatur EXPO event.  Plan to pick up your number and head to one of our partnering restaurants for some pre-race carbs!  Details coming soon.

Tour deCatur – Decatur Education Foundation from Lance Dreesen on Vimeo.
Your participation in the 2015 Tour deCatur can help raise funds for your favorite school, group or CSD sports team!
BUILD support for Decatur schools and sports teams (and children across Decatur) by encouraging family and friends to support your participation in the Tour deCatur.  For more information click here