Support DEF When You Shop
Your Small Change Can Have a BIG Impact!
Now you can support DEF through small and affordable donations! We have partnered with CaringCent to bring you an easy and secure way to support us that meets the demands of your busy life, while allowing you to track and retain your tax deductions.
How it works:
Sign up in minutes: go to https://donate.caringcent.com/#/go/decatureducationfoundation to register a credit card to roundup!
Go shopping! Whenever you make a purchase, use the card that you registered. Your purchase will be automatically rounded up, and the change will go towards the DEF programs that support Decatur's kids.
Spread the word. This small change adds up when combined with other donors! Don't forget to spread the word to your community; adding their support will compound your donation!
Access information about your donations and rounding transactions by logging into your secure account, available online at any time.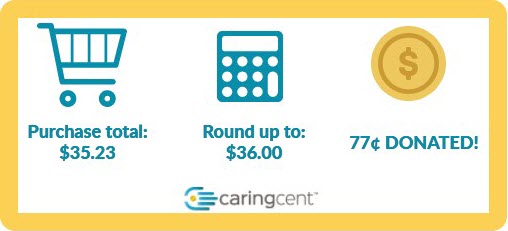 Good to Know:
Unlike when you donate a few coins at the cash register, when you register your debit or credit card to roundup in support of the cause you care about, you get tax receipts for your rounding donations!
After registering, you can have a real impact in your community with very little effort.  Your regular rounding donations will fund many of DEF's programs and initiatives that support the students and teachers of Decatur.
Your rounding donation account can help you stay on top of your budget!  At any time, you can see exactly how much your are donating.  You can set a monthly donation maximum, or even make a spot donation if you want to contribute more. You can log on at any time to manage your account.
Thank you for choosing to support DEF. Together, we make a difference!