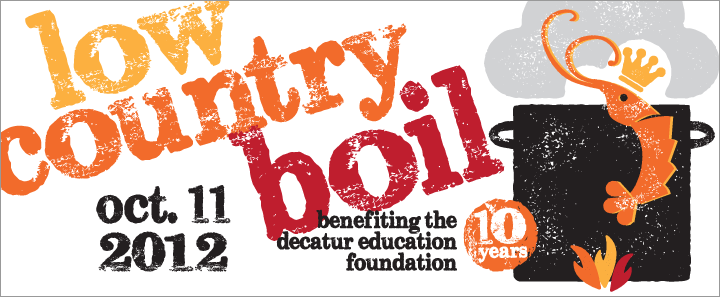 Enjoy these photos from our wonderful event taken by our extraordinary volunteer photographers Arthur Ratliff, Mike Curtice and WOW PhotoBooth.
Click here to see more photos from Arthur Ratliff and visit arthurratliffphotography.com
Click here to see more photos from Mike Curtice
. . . . . . . . . . . . . . . . . . . . . . . . . . . . . . . . . . . . . . . .
Celebrating our 10th year with a NEW, LARGER venue – Leapin' Lizards at 185 Sams Street!
6:30-10:00pm
[ Note: Though by day this venue houses a children's play area please remember this is still a party for adults! ]
Our 10th Low Country Boil features:
MORE SUMPTUOUS FOOD
By Chefs Michael Condon and Ray Allen of Badda Bing
Peel-and-eat shrimp, sausage, potatoes, corn-on-the-cob, and sides, served buffet-style
MORE REFRESHING DRINKS
Provided by Victory Brewing Company and Universal Joint
MORE ROCKIN' MUSIC
By local Decatur talent
MORE FABULOUS AUCTION ITEMS
Gourmet & Getaway Auction presented by Nubarter
Bid on food and vacation related items during our silent auction
ALL FOR A GREAT CAUSE
Ensuring that EVERY child in Decatur has opportunities
to reach his/her full potential
. . . . . . . . . . . . . . . . . . . . . . . . . . . . . . . . . . . . . . . .
Interested in sponsoring this great community event? Want to serve on the host committee or be a table captain?
Boil Individual Support Levels
Contact Gail Rothman at gail@decatureducationfoundation.org or call 404-377-0641.
Frequently Asked Questions about the Boil:
 Why isn't the party at the Solarium?
Attendance at the Boil has tripled in the past three years and we outgrew the Solarium. 
Why is the event at a place that is filled with kids' bounce tents?
 Leapin' Lizards is a large space that during the day houses bounce tents for kids but at night the tents are deflated and moved out (beer and bouncing – never a good    mix).  The layout of the space allows for seating for large numbers (400+) and better flow for the bigger Gourmet & Getaway Silent Auction.
What is the parking situation?
 Another benefit to the new location is a large parking lot and plenty of street parking on Sams Street and Talley Street.
Can I bring my kids?
Even though Leapin' Lizards is for kids during the day, for this event it is adults only.
What else has changed about the event?
The event will retain its casual feel and feature the same great Boil menu by chefs Michael Condon and Ray Allen of Badda Bing.  Great brews will still be available provided by Victory Brewing as well as white and red wine.  There will be live music provided by the Grits during the party and by local Decatur High students as guests arrive.  There will be plenty of seating for all guests and plenty of space to mix and mingle.
We know that this event, now in its 10th year, has great community support and it is always risky to change a successful event.  The event began 10 years ago in the backyard of local Decatur residents and moving to the Solarium many years later was a big change.  We have a talented crew of volunteers working on making this the best Boil yet – we hope you LOVE the new venue! If you want to join the volunteer crew click here.